Two years ago, at 15, S Chandrasekar was the youngest engineering graduate in the country. On July 25, he will be the youngest postgraduate from IIT Madras when he receives his degree at the convocation. The teenager has also topped his class.
Born on September 25, 1990, Chandrasekar was a precocious child, according to his parents. "His teachers used to complain that he would finish his work quickly and disturb other children, so we asked them to give him some books to read after he finishes work so he doesn't trouble the other children," says Chandrasekar's father R Subramanian, an auditor.
A family friend, who noticed that the boy was inquisitive and picking up things very quickly, thought it would be interesting to put him in an international certificate programme.That is how Chandrasekar became the youngest Microsoft Certified Systems Engineer and Cisco Certified Network Associate at 11 years.
Chandrasekar was appointed an honorary director of the Technology Information Forecasting and Assessment Council – Center of Relevance and Excellence in network engineering in August 2002.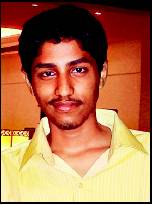 In 2002, an Anna University committee, headed by the then vice-chancellor Dr Balaguruswamy, assessed the boy's capabilities and decided to admit him into the BE programme, which he cleared when he was 15.
He then took the Graduate Aptitude Test in Engineering and scored 99.32 percentile, which left no room for academics at IIT-M to have second thoughts about admitting him into the MTech course.
"The best thing about him is his consistent performance. When he is interested in something, he pursues it with great commitment and purpose," says Subramanian.
"BE was academically not very hard. In the first semester the environment was new, so I had a little difficulty both academically and psychologically. But Dr Thangaraj, now vice-chancellor of Kalasalingam University, gave me a nice home-like atmosphere, and after the first four or five months there was never a problem," says Sekar, as his close acquaintances call him.
Prof Pandurangan of IIT, under whose guidance Sekar works, says, "It's a pleasure to teach and do research with him. He has showed mastery and mathematical maturity ahead of his age."
Sekar attributes his success to Bell's Matriculation School in Tirunelveli, which never put any academic pressure on him and allowed him to grow in his own time, Covansys, Dr Thangaraj of Kalasalingam University, Anna University, which bent rules to accommodate his genius, and TCS for extending its resources for his development.
"I want to continue as a researcher in TCS RMD in Chennai for some more time. I would also like to get a management degree at some point in my career so I won't just have theoretical knowledge. Best of both worlds, you know," Chandrasekar says.
http://epaper.timesofindia.com/Daily/skins/TOI/navigator.asp?Daily=TOICH&login=default&AW=1216913340656