Not everyone is born with a silver spoon in his mouth, and no one knows this better than Scottish actor Sir Sean Connery, who's lived the rags to riches story.
Connery was born in Fountainbridge, Edinburgh, to poor parents, and a house that had no bathroom, only a communal toilet outside.
The actor, the youngest in the family, slept in the bottom drawer of a wardrobe until he was eight. Things only got worse when World War II broke out.
"I was nine when the Second World War broke out. We were living in Edinburgh in real poverty. We didn't have the luxury of worrying about our inner selves," Daily Express quoted him as having revealed.
He had limited education, leaving school at 13 to go to work as a milkman with St Cuthbert's Co-operative Society.
"I educated myself, which may be why I still sometimes feel just like a little boy when I meet intellectuals," he has said.
Employment records from 1944 show that aged 14, Connery earned 21 shillings a week as a barrow pusher. By 16 he had his own milk cart, making him the envy of every teenage milkie in town, but at 17 he joined the Royal Navy as an able seaman.
Two years later he was discharged on medical grounds because of a duodenal ulcer and returned to Edinburgh where he worked in a steel mill, delivering coal and polishing coffins at a cabinet makers.
In late 1951 he landed a part-time job as a stagehand at the King's Theatre. He was also in demand as a model at the Edinburgh College of Art after taking up bodybuilding.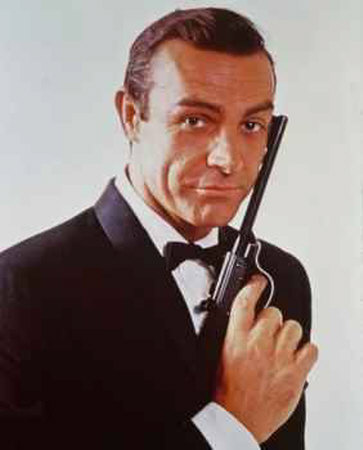 It was his impressive physique that provided him with a route out of working-class life, for in 1953, at the age of 22, he came third in the junior section of the Mr Universe contest in London and while in town heard a report that young men were being auditioned for a production of South Pacific at the Theatre Royal.
"How much am I getting?" was his first question on being chosen.
"That doesn't concern me," sniffed the producer.
"Well," said the gruff Scotsman, "it concerns me."
Connery revealed that there had been one time when he had been offered to play football by Matt Busby, the manager of Manchester United, with a contract worth 25 pounds-a-week, but refused, as it was not a long lasting job.
"I realised that a top-class footballer could be over the hill by the age of 30 and I was already 23. I decided to be an actor and it turned out to be one of my more intelligent moves," he had stated.
Regarding how he became James Bond, he recalled how he almost lost the role, as his broad shoulders and Scottish accent, led the creator of 007, Ian Fleming, to insist that the burly Connery was not at all the Bond he had envisaged.
They met in the early Sixties after the young actor won the career-defining role following his fledgling career on stage and television, including a part in a BBC production of Anna Karenina.
"I thought we were getting Commander Bond, not an overgrown stuntman," Fleming is said to have mused as he analysed Connery's muscled 6ft 2in frame.
But Connery had the requisite mix of sexual attraction and aggression needed for the part and eventually won over Fleming.
He attributed his success to his upbringing and to his inner strength.
"What I do know is that I've had an extraordinary life. What's more, I started out with no qualifications. And however good life is to me, I never forget that. I never forget where I came from and that's my strength," he said.
The Scot says of the influences that shaped him: "I got my education in the great school of life. I started so low I could only go up. My experiences have made me the man I am today," he added.
Connery provided the whole fascinating insight while discussing his long-awaited memoir Being A Scot, due to be published next month. (ANI)