Abhishek Kumar Bharti, son of a poor shoemaker from Kanpur, whose family lives in a 10×10 house has cracked the entrance examination of the most premier institute of the country IIT.
The son of a cobbler, Abhishek has managed to beat the odds and make it to the IIT with a rank of 154 in the SC/ ST category in the entrance examination. His life has been an endless struggle and it's only his zeal to carry on that saw him reach thus far.
A student of the UP board, Abhishek gathered 78 per cent marks in his class XII. Though he hails from a financially weak segment of the society but his deep inclination towards studies helped in meeting his goal – Goal to graduate from IIT.
He helps his father, a cobbler, mend shoes in his spare time while his mother stitches rags to support the family, but financial hardships have not stopped Abhishek Kumar Bhartiya from coming out with flying colours in the IIT entrance exam.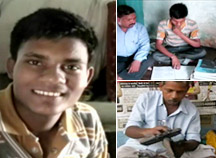 Abhishek has three young brothers and the family of six lives in a one room accommodation with no electricity.
"We have just one small room where six of us live and that too without electricity. So, he used to study under the lantern for five-six hours in the night," says his father Rajendra Prasad.
Abhishek would work with his father as a shoeshine boy and at times would find a job as a labourer to earn some extra money. Talking about his elder son, Rajendra said, "He used to study in the night and help me in my work the whole day.
His three brothers – Abhijit, Anshul and Aryan – are below 12 years of age and study in a municipal school. Their mother Sangeeta Devi repairs old clothes of poor people and earns about Rs 50 a day. "My husband gets around Rs 100 and I earn Rs 50 in a day. It is not enough for us. But we don't want to beg. We want to live with our heads held high. My children know how to go ahead with their pride intact. Abhishek never demanded anything from us. The table of my sewing machine would turn into his study table at night. All I did was to ensure that there was enough kerosene in the lantern," she said.
Moved with the achievement made by her son, Sangeeta Devi said, "We have been living without basic facilities at our end because we cannot afford to buy luxuries. Selection of my son has come as a gift to us from the God's side. His hardwork has borne fruits."
Abhishek emerged as a fine example for others who wish to crack the entrance exam of various competitions. He not only lacked electricity at his house but it was too tough for him to study in a small room of 10-by-10 wherein his entire family lives. His father is the bread earner and many a times he used to work as a labourer for six to eight hours in a day to arrange for the two ends to meet. Abhishek used to assist his father in doing so.
Mahesh Singh Chauhan, the teacher of Abhishek who provided the boy with free education was overwhelmed with the success. Chauhan had raised a batch of 35 students last year wherein he had taken poor students as a part of his team. He taught them the basics of Physics, Chemistry and Maths alongwith a team of young IIT passouts to strengthen them. Abhishek was one among those fortunates who cracked the JEE and emerged as a winner.
http://timesofindia.indiatimes.com/city/kanpur/Cobblers-son-cracks-IIT-JEE/articleshow/5978149.cms