Her world has revolved around the black and white squares, for more than a decade now. For 23-year-old Jennitha Anto crossing hurdles in life is similar to making her way across the chess board — one square at a time.
This physically-challenged girl from Tiruchi, dreams of being a grandmaster some day and a chartered accountant. She has distinguished herself by earning the FIDE Women Candidate Master title with her performance in the recently concluded 39th World Chess Olympiad at the Russian town of Khanty-Mansiysk.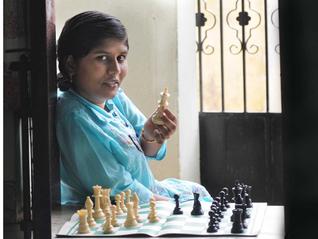 Jennitha bagged the silver medal in the women's section at the eighth IPCA (International Physically disabled Chess Association) World Chess Championship in Wisla, Poland. In a tournament that had 70 physically challenged players participating including a number of International Masters, she managed to hold her own.
She was the only non-Russian invited to represent the women's IPCA team at the 38th World Chess Olympiad in 2008, where she exhibited her prowess winning seven games in a row (against players in the general category), including one against a Woman International Master (WIM).
She stands testimony to the triumph of mind over matter. For the girl struck by polio at three, disability has never been a handicap in courting success. "It's all in the mind," she says. Uncomplaining and contented, her soft-spoken veneer conceals an invincible will power.
Notable is her father, G. Kanickai Irudayaraj's contribution to her success in the sport. Her first coach and constant companion, he introduced Jennitha to the world of pawns, knights and queens.
"I happened to read the Will of Steel which records accomplishments of the differently abled in sports. It led me to believe Jennitha too can do it. I told her I would teach her a sport," recalls the father, a retired school teacher. "She was reluctant and reminded me she could not run, let alone walk. But she was excited, when I told her she could play chess." And that was how Jennitha got her first tutorial in chess. She soon discovered her talent when she won her first tournament at the district-level in 1996.
"During my first tournament, I was trembling all over; I was worried that so many people were watching me and I wondered what they thought, seeing me in a wheelchair. But after winning the tournament, I was all confidence," she says with a bright smile.
And she did not stop there. She went on conquering opponents in a battle of brains. Jennitha was district champion under different age categories six times in a row. Her highest ranking in an open tournament at the State level was No. 5 while she was ranked 16th in the country in the under-15 category and competed in international tournaments to become a rated player by 2002.
Though she took a break to concentrate on her Board exams, Jennitha returned to her first love — chess — while doing a degree in Commerce through correspondence.
Lack of infrastructure or special arrangements have never been impediments in her way forward. But the only disadvantage she points out is missing chances to watch the games of other players during tournaments. "Apart from giving you a break, it can largely improve your game. I feel I have missed those opportunities," she rues.
Coached by International Master and Olympic team captain, Raju Ravi Sekhar, Jennitha says he shaped not only her technique but also her temperament. Something that she has imbibed from her idol Viswanathan Anand.
The computer has been an asset for Jennitha to improve her game through online coaching and long hours of practice. The biggest obstacle that stands between Jennitha and her 'Grand' dream is the lack of funds.
"Jennitha is about to start coaching under a Grandmaster which requires Rs. 1,000 per hour. Besides, her travel expenses are more because she needs to be accompanied," says her father.
Both father and daughter are thankful to private organisations and the Tiruchi District, State, All India Chess Associations and the State Government who have made the journey so far possible.
Jennitha's hero, Bobby Fischer once remarked, "You have to have the fighting spirit. You have to force moves and take chances." Jennitha has that and more. The sunniest of optimists, she also believes in miracles. Her life may be chequered but she has never been check-mated.
http://www.thehindu.com/todays-paper/tp-features/tp-metroplus/article873155.ece