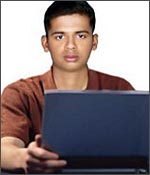 At 18 years of age he is one of the world's youngest Microsoft Certified Systems administrators. His claim to fame, however, stems from the fact that his organisation endeavours to reduce cyber crime.
He gives lectures to officers of the Indian Army and Indian corporates on how to safeguard their networks and the Internet infrastructure backbone from potential raids by malicious cyber hackers.
As a mark of appreciation, Microsoft Corporation chairman Bill Gates [Images] invited him to the launch of Biztalk servers in India in 2006.
Meet Vineet Kumar, the founder and CEO of the Global Ethical Hackers Association (GEHA) and the National Anti-hacking Group (NAG); the latter is a non-government organisation which 10,000 hackers have joined as members since its inception back in 2003).
Vineet and these NAG members belong to a category of hackers that take pride in calling themselves 'whitehat hackers' These are ethical individuals who are opposed to the abuse of computer systems by malicious hackers known as 'blackhats'.
Interestingly, despite his expertise in a field as arcane as hacking, Vineet has had no formal training in his trade. He was attracted to computers as a child and managed to get the hang of surfing the Internet and chatting online. During one such session in an online chatroom, he met his mentor, who he refuses to name.
"He was a 'greyhat' hacker," reminisces Vineet. "He was based out of Chicago and gave me hacking lessons over IRC (Internet Relay Chat)."
How does Vineet know that his mentor was somebody based out of Chicago?
"I used some of the techniques he taught me on him," chuckles Vineet, explaining that one can obtain the IP address (Internet Protocol address) of a machine without its owner knowing. "I did it for fun and to know if it actually works."
It's hardly surprising, then, to learn that this mischievous streak caused Vineet's teachers to brand him 'naughtiest kid in school' back when he attended the Army High School in Ranchi, his hometown. By his own admission, he misses those school days. Today he is pursuing a four-year course in Information Technology and Infrastructure Management Services, ITIMs, from Sikkim Manipal University.
Vineet spoke to rediff.com's Prasanna D Zore about ethical hacking, his responsibilities as CEO of GEHA and NAG and the pressure of handling such a career while he is still in his teens.
So you are an ethical hacker. What exactly does that mean and what made you pursue becoming one?
I prefer to be called a cyber/ information security advisor. Ethical hackers are hackers who work for a good cause — in other words, they are security researchers who plug the vulnerabilities and loopholes of online networks.
I do not concern myself with the philosophy of ethics, but with the simple knowledge of right and wrong engrained in my character. I work in favour of national interest, to save my country from cyber criminals who have a personal axe to grind.
You are only 18 now and CEO of the National Anti-hacking Group, NAG. What responsibilities does the position entail?
My responsibilities include managing the team, security projects, conferences, seminars, consultancy/ advisory assignments, taking important decisions and enabling the smooth functioning of the organisation.
You mentioned that you are pursuing a four-year course in Information Technology and Infrastructure Management Services from Sikkim Manipal University. Doesn't being CEO of an organisation interfere with your academics?
Yes, at times I do feel that my job responsibility interferes with my academic success. However, my ambition to be different from others belonging to my age group gives me the strength and will to work. Nothing worth achieving comes without concentrated effort.
How did you manage to accomplish so much at such a young age?
I think, that old adage holds true — "Where there is a will there is a way". I also believe that at 18, I am at the most creative stage in my life — I'm young, imaginative, full of positivity and inspired by the potential that the future holds for me.
Who are the people that are benefited by the NAG initiative?
We constantly try to solve social problems that stem from online activities by creating awareness in the field of cyber/ information security. Our efforts serve to protect children, students, families, individuals, and organisations (government as well as non-government) from the unseen criminals of the wired and wireless worlds, because we genuinely believe that social conscientiousness is primary to achieving a peaceful cyber co-existence.
We also voluntarily render our security services on a regular basis to providers who cater to society and the service sectors. The target beneficiaries includes schools, colleges, universities, educational institutions, financial institutions, the government sector, national and multinational organisations.
Our social commitment is to "enable people to use information and communication technology without fear". Our issue concerns not just our country, but the world — today, a wired or wireless existence is almost as important as the physical.
Can you narrate any incident where NAG helped protect India from a dangerous cyber attack?
We protect many organisations, both government as well as non-government, from being violated. I am, however, bound to keep quiet by my professional commitment and therefore cannot disclose any information, nor the nature of my work. My friend Yash Kadakia and I have created a special security brigade to plug the vulnerabilities and loopholes in websites and networks and to provide them with timely guidance and security advice. According to a recent survey we conducted on Indian websites, 90 percent of them are vulnerable to violation; some of them possess critical information that should not be compromised under any circumstances. I would say that cyber security is still not given a priority in India.
What's the difference between a white hat hacker and a black hat hacker?
The basic difference is not in the nature of the work but in their objectives and motives. The techniques and strategies used by both are the same. However, whitehats work in the positive interest of online security, whereas blackhats work to disrupt it. A white hat generally focuses on securing IT systems, whereas a black hat will focus on breaking into them.
You are a regular on the lecturer circuit. How did it begin? What kind of lectures do you give and how do they benefit your audiences?
It all started a couple of years ago when I was attending Ranchi's Army High School. My father is an army officer and his colleagues, my teachers and friends all recognised the hidden potential in me. That's how I began giving lectures to create awareness on cyber security.
I make the audience aware of the techniques adopted by cyber criminals and provide tips on how they can keep themselves secure. Those who fall prey to hackers are usually victims of ignorance – my mission is to dispel the darkness of ignorance by kindling the light of knowledge.
The audience usually accepts the stark truth that both the wired and the wireless worlds are vulnerable. They exhibit interest in knowing more about security and are ready to pay a price for a secure existence. They also appreciate my social initiatives.
Can you tell us something about your childhood? Who is your inspiration and what are the respective futures of Vineet Kumar the white hat and Vineet Kumar the student?
I was always an average student, but was quite dedicated when it came to computers. Sometimes I spent all night working on my machine and would end up sleeping in the classroom! My teachers branded me naughtiest kid in the school — I was always up to some mischief, but the strong discipline enforced by them ool helped me follow a straight path. How I miss those memorable days!
AS for my future, Vineet Kumar the white hat and Vineet Kumar the student are the same person. As a white hat I provide security to Internet users. As Vineet Kumar the student, I try to increase my knowledge. These two aspects of my life are like two sides of one coin — one manifests work, the other stands for growth and the urge to make a success of myself.
http://www.rediff.com/getahead/2007/dec/12vineet.htm