His is an amazing story. He learnt invaluable lessons of entrepreneurship from each of his failed endeavours.
As a teenager, Naresh Gulati was labelled as a failure by his family and relatives for he spent time selling candles and cloth in the streets of Chandigarh. Later, he was even duped by unscrupulous travel agents who promised him a lucrative career in Australia.
At 15, when boys of his age were playing around, Naresh Gulati had to really struggle to make money. After he failed the tenth standard examination, the pressure only mounted on him to work harder.
"My family members were not so highly educated. So they wanted to me to study hard and do well. But I was not interested in anything they taught at school. My father wanted me to study in an English-medium school. I did not know the language neither did I want to learn it. When I failed the tenth standard exam, I got thrashed by my father and was locked up in a room. It was really humiliating," Gulati recounts.
Everyone thought he had ruined his life but he never thought he was a failure. He did what he thought he was good at: business. So what if it meant selling candles or cloth on the streets?
"My father had a cloth business that suffered a huge loss at that time. Since I was the eldest, I had the responsibility to look after the house along with my father. Even as a young boy, I wanted to do something different. I started by selling fancy candles. When others sold ordinary candles, I sold fancy ones, and made more money. This way I could earn pocket money and help my family as well," he says.
For him, this unfortunate turn of events, was a stepping stone to future success. Little did anyone realize that this young boy would one day become rich and famous.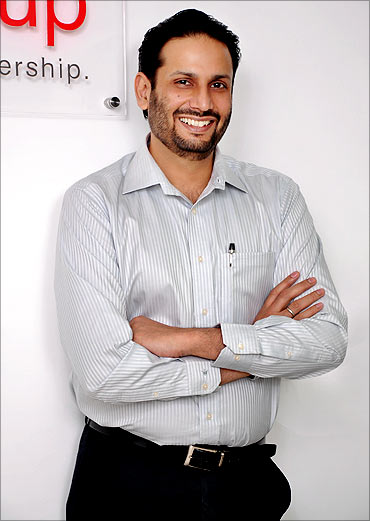 Naresh was compelled to join school again. His father wanted him to become at least a graduate, and he obliged. Later, he went on to do a computer course. "My first job was at Aptech as a lecturer. The rest like they say is history," Naresh says. Naresh now heads a group of companies in India and abroad. The OCA Group he founded is a holding company for three businesses: Oceanic Consultants, BPO Intelligence and Object Next Software.
Naresh Gulati shares the joy of being a true winner despite all odds..
.
How was the experience of working as the street vendor? Were you happy doing it?
I enjoyed working. There was nothing else I could think of doing to be independent. I advised my father that the way he was doing business was wrong. I did everything myself, instead of sourcing cloth from vendors, I went and selected the cloth I wanted to sell and made sure it worked. It was a tough life. I had started the business by borrowing Rs. 5,000 from my uncle during Diwali. At the end of the first year, I could pay off the debt and still had Rs.10,000 with me. I continued to do the business even when as I started studying again. After classes in the evening, I used to turn into a vendor. Once during my college days, one of the girls in my class passed by and I felt very embarrassed.
Why did you decide to start studying again?
There was a lot of pressure from my parents that I should have a degree. So I went back to school. I passed the tenth standard but I failed again in the 11th standard. My family had given up all hopes on me. They thought I was useless and was wasting time. However, I tried again and cleared the exam. Finally, I graduated in political science. Then I got selected to do a course in electronic data processing from the Regional Computer Centre. After this, I joined Aptech as a lecturer.
But I always wanted to start a business of my own. So I started a computer centre in Chandigarh, followed by a cosmetics company. But the business was not doing very well. Then I came to know from an agent that Australia offers a great opportunity for professionals. The agent painted a rosy picture of things. He misled me to believe that everything will be taken care of while I pursue my further studies. My parents took a loan of Rs.2 lakh to send me abroad.
When I reached there, I realized that I had been duped. There was no way I could afford to live there and study. I even slept outside on benches many nights not knowing what to do. But I was not ready to give up.
I knew I should not let my parents know about my suffering. I studied during the day and spend the evening working hard, washing dishes at restaurants, doing all kinds of odd jobs. I soon met many people who were duped by such unscrupulous agents. This actually turned out to be a blessing in disguise. It struck me that a good service to guide the Indian students to join the universities abroad would be an excellent business opportunity.
After the post-graduate course in information systems from RMIT University, Melbourne, Australia, I got a job as an analyst programmer. I worked for one year and came back to India. I had saved enough to pay off my parents' debt. I wanted to start the overseas education consultancy business.
How difficult was it to start the company?
It was a tough decision. There were many things against me. I just had 143,000 with me after I cleared the debt. I was entering the market when there were about 100 companies offering similar service in Chandigarh. When I began there were many people with expertise in this field. I had limited number of institutes in my list. I did not have enough funds. But I never feared anything. I started Oceanic Consultants all by myself. It was a one-man show. It was really difficult to manage things myself. I could not afford to advertise or hire more people. Luckily, business started picking after people realized that I was honest. My aim was to see my clients happy. So word spread about us and things started looking up.
http://business.rediff.com/slide-show/2010/aug/13/slide-show-1-candle-seller-to-multi-millionaire.htm