It's not very often that you attach the title 'Dr' to the name of a 21-year-old youngster. Meet Dr Tathagat Avatar Tulsi, who is on top of the world today after joining an exclusive club of scientists with a doctorate at the age of 21.
Dr Tulsi is the youngest person in India to hold a doctorate and with this feat he has joined an eminent club of greats like Dr John Forbes Nash, an American mathematician who competed his PhD from Princeton University, US at the age of 21. His faculty at the Indian Institute of Science is truly inspired by his research on software for next generation and quantum computers. His research is not only unique because of his age, but also because his thesis was unusually short — it was completed within 33 pages.
Dubbed a whizkid, and a genius, Dr Tulsi says it was a dream when he picked up his certificate at the Department of Physics at the prestigious Indian Institute of Science. But he also says that the path to success is not an easy one. In this interview with rediff.com's Vikash Nanjappa, the prodigy speaks about his passion, his success and what he has planned out for the future.
First of all, how does it feel to be addressed as 'Dr Tulsi' at the age of 21?
Top of the world, I must say. To be the youngest person in India to hold a doctorate at 21 is indeed a great feeling, one that words cannot describe.
How tough has it been for you to achieve all this?
It hasn't been easy at all; the road has been very hard indeed. I had a passion to achieve and I realised that there were more hurdles than I had counted on. I had a very supportive family, but in due course I started to get a lot of negative publicity. This did not help my cause one bit. I strived to complete my research in three years, but it took six years thanks to all the negative publicity. However, that is in the past now and I have achieved what I wanted.
Tell us something about yourself and your family.
I always had the passion to study and that is exactly what I did. I finished my high school at the age of nine and my BSc at the age of 10. My MSc was completed at the age of 12 and due to this my name appeared in the Guinness Book of World Records.
My father T N Prasad is an advocate and my mother Chandhal Devi is a teacher. I have two brothers. One is interested in joining the administrative services and the other wants to become a lawyer.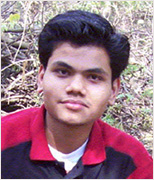 You certainly have a unique record. However I must ask, did you feel different when you were in the IISC? I am sure all your fellow classmates were a lot older than you?
Yes, of course I felt different. I was the youngest and hence I always knew that I was different when compared to the rest. The IISC campus was not accustomed to such young people and this at times created more problems for me. I really don't wish to go into the problems as of now, since it is a thing of the past. However, I must add here that the negative publicity did affect me a great deal, especially psychologically.
What about friends your own age? Did you have any and if so, what was your relationship with them like?
Yes of course, I did have friends. However, I am not in touch with them. I would not say that it was normal, the relationship with my friends. I chose to study a lot and achieve my goals as I was always fascinated by studies. In fact, very recently, when I saw that my friends were studying for their examinations, I was sad because I wanted to study along with them too.
Don't you miss having had a normal childhood?
Not at all. I really was not the conventional child who used to play like the others. I loved to study and I did that all through my childhood. So there isn't really anything that I have missed out on.
You have stated in the past that it was not easy to get admission to various institutions due to your young age. How did you manage that?
Yes, that was tough — my age was always a deterrent. I had to rely on special permission, although I must say that none of the educational institutions granted me this. We had to battle it out in the courts to obtain special permission. Fortunately we managed to win the case and I got special permission.
How does it feel to be called a whiz kid? And when did your parents realise that you were one?
It feels good. But I must add that there has been a lot of hard work that has gone into this. I would like to narrate an incident from when I was three years old. My intention was to save on the battery of our calculator and hence I decided to work out all my calculations without one. This was when my parents realised that there was something different about me.
Although it's fairly obvious, could you tell us how your parents reacted to your achievement?
Yes, they were thrilled and I am happy that I have made them so proud. When I ended up taking six years to complete my doctorate instead of the three years that I had in mind, they were worried. But today they are relaxed and happy that I did not let down those who stuck by my side through both the good and bad times.
I am sure that the journey does not end here for you. Tell us about your future plans.
I have a fellowship offer from the Institute of Quantum Computing, University of Waterloo, Canada. I have a lot of plans though. I would like to set up a computer laboratory to develop software for new generation computers. I am also looking for a professorship from the Indian Institute of Technology. I want to work on my ideas after that.
 http://getahead.rediff.com/report/2009/aug/31/meet-dr-tathaghar-avtar-tulsi-he-is-21.htm