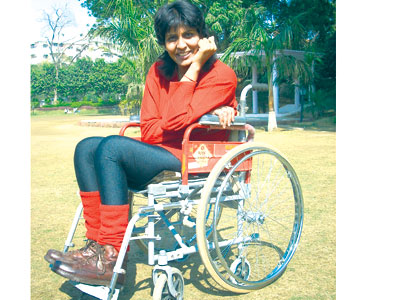 A tumour was discovered inside my spine when I was about eight years old, after I complained of numbness in my legs. It took me almost nine months to walk again. My father is from the Army and so is my husband. Then during my second pregnancy in 1995, my feet would swell up and I would get regular backaches, which were mistaken to be symptoms of pregnancy. The pain got unbearable so I went back to the doctor in Pune who had operated on me. He checked my spine but unfortunately did not check the area where he had operated years ago, so could not diagnose the cause of pain.
At that time, my husband was preparing for exams for a course at the Defence Service Staff College at Wellington near Ooty. Wellington was a hilly area, so it was hard for me to walk on the uneven terrain and the cold made my legs stiff. I'd avoid the stairs and I couldn't bend or drive or put any kind of strain on my legs. Then in '98, my husband got posted at Tilel Valley near Kargil and I went to Jaipur, which was the closest family station for my convenience, and my parents were there too. My dad realised something was wrong and took me to the research and referral hospital in Delhi. In June '99 the doctors operated on me. By then the damage was so bad that the doctors warned me I would be paralysed after the surgery. I agreed to go ahead because at least I would be alive for my two daughters and my husband.
I went into surgery walking, and I came out paralysed. I had lost muscle control from my torso downwards. When I left the hospital, I made up my mind to lead a normal life. With my supervision and some domestic help, I looked after my home, kids and dog while my husband was away. I had physiotherapy every morning and evening and I grew up again with my kids. The girls and I would wash each other's hair, I had to learn to change clothes and everything was from point zero for me. I also had to change my eating and drinking habits so that going to the toilet became easier. Being paraplegic, you lose bladder control so you wet yourself often. I had to learn time management with my fluids so that this didn't happen.
We moved to Ahmednagar after my husband returned from the Kargil sector. We had a piece of land there and our maids used to come from a village nearby where I used to teach the kids once or twice a week. I decided to open a small restaurant on my land and employ the local boys. I started a home delivery place because Ahmednagar has a huge Army student base and the place became a huge hit. I called it D's Place and is a full-fledged restaurant today.
Then I went for a rehab training course where I learnt some basic tricks of using the wheelchair, how to move to the toilet seat and back etc. Those 45 days were the turning point as I got the confidence to travel. I met Arun Sodhi there, who was a power lifter. He is also a paraplegic and conducts these workshops. He asked me if I would like to swim and I said why not. I won the silver medal at the FESPIC games held in Kuala Lumpur. By then my husband had quit the Army to run the restaurant. He had been extremely supportive throughout it all and when he quit the Army he told me, "This is your time to fly, you do what you have to." Being a sporty person, I have participated in international sports events for javelin, shot put and swimming and won several medals.
I also took part as a navigator in the Raid de Himalayas car rally, which is the toughest car rally in the world. At 18,000 ft, going for 1800 km is hard and with my bladder problem it was really tough, but I did it and it was a unique experience. Then in February this year, there was the Desert Storm car rally. This time I could participate as a driver in the TSD category and the condition was that a family member should accompany me. So my husband came with me and I was the first physically challenged person who completed the rally. It goes on for six days and many people drop out on the first day itself.
Today I don't let myself feel limited because of my disability. After all the medals and the accolades, I believe that at 41, if I can do it, so can others like me.
As told to Minal Khona
http://www.deccanchronicle.com/supplementary/%E2%80%98i-went-walking-came-out-disabled%E2%80%99-645