Meet 14-year-old Sindhuja Rajaraman, the CEO of Seppan, a Chennai-based animation company launched only in October last. And we're not kidding. A ninth-standard student, she was adjudged the fastest 2D and 3D animator by software lobby Nasscom at the Gaming and Animation Conclave 2010 at Hyderabad. Interestingly, she is also a brand envoy of design software major Corel Software .
As head of this nascent firm, today she may give tough competition to some of the top CEOs when it comes to taking business decisions, that too quickly. But where did she start?
It all started five years back when I wanted to take my mind off studies and do something new. My father, who is a cartoonist, instilled in me the passion to do animation and taught me the entire process, she says. I have tried my luck with animation even before I started learning it professionally. I did my first mini animation project when I was in sixth standard. It was on "do not disturb animals?,? she recalls.
Early Months
After a few amateur moves last year, Sindhuja made a Guinness Book record attempt for the fastest animation film. The project was for Exnora, a Chennai-based non-profit organisation, to mark the occasion of 10-10-2010. I created a three-minute animation film in 10 hours. It has gone to the Guinness team and I am still waiting for them to announce the final results, she says proudly.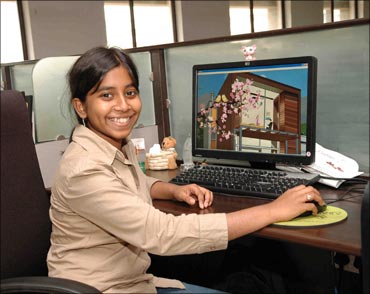 Things started rolling right after that when Sindhuja was offered by First Planet to work as Seppan's chief executive. With an investment of Rs 10 lakh, First Planet seeded the firm and the entire thing happened within a day. I did not even know what a CEO meant that time, she says.
At Seppan, we are a team of 10 people and we will be adding more people as and when the need arises. Though my team mates are older they always take my assistance and, in turn, they also guide me. They have taught me what corporate world is and what team management is.
Her mentor Kumaran Mani, who helped her with the setting up of Seppan, says, Initially she was a little uncomfortable being a CEO. But now she has learnt the tricks of the trade. When she meets a client she immediately shakes hands, collects their cards and neatly puts it in her folder. Software lobby Nasscom's regional director for Chennai, K Purushothaman, tells us that Sindhuja is very passionate and committed in what she is doing. She has mastered the domestic animation skills. Now she has to sharpen her knowledge and skills on what's happening in the international market he said.
To Stay An Entrepreneur
Though some firms have approached her to join them, she is not too keen. I don't want to join any big corporates now. I want to be free like a 14-year-old girl should be. I don't want to be overloaded with work. After 18, I will take up bigger projects. she says.
Before signing off like every other professional, she says,I want to make a mark in this industry. When I'm twenty-year-old, I want Seppan to have a turnover of at least Rs 1 crore.Her aim now is to study at the Vancouver Film School in Canada and specialise in animation.
But doesn't she want to go to school and play out like other kids? My school has given me an exemption. I go for tuitions after work and go to school to write my exams alone.One needs to sacrifice certain things to chase dreams. I also like to play like other kids and that's why I chose to play with animation, she answers.

http://economictimes.indiatimes.com/tech/software/meet-the-14-yr-old-animator-ceo/articleshow/7667958.cms?curpg=2