A CEO when he was in his teens? Suhas Gopinath, founder of Global Inc., attributes his entrepreneurial success to his never-say-die spirit.
It was probably a co-incidence that a huge billboard of the film "The Social Network" stood tall above his office but, minus the lawsuits, Suhas Gopinath could be considered a local Zuckerberg. It does not matter that he does not have a degree, because Suhas is the CEO of Globals, an IT company he started when he was a gangly teenager with a powder moustache.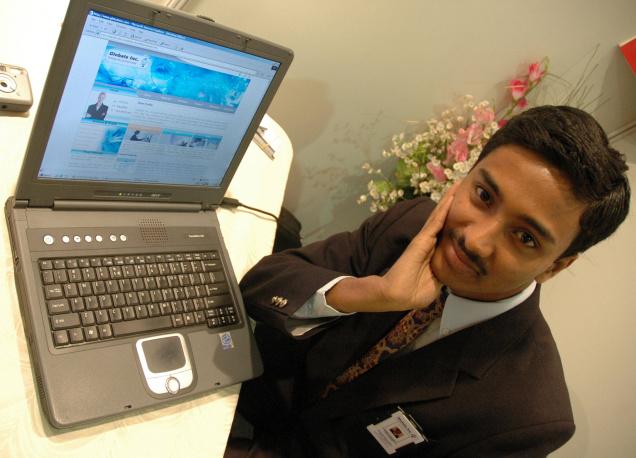 "I started working to buy myself a computer, and I wound up with a company," says Suhas, who comes from a middle class family that believes business is for those who are poor at studies and who have no other choice. "I have always been impatient and aggressive; when I want something I have to get it. It's this drive that has helped me achieve most of what I have," he says, admitting that he picked up his leadership skills on the job.
Suhas started his career in an Internet shop; he worked there and also designed websites for Western companies. "They underestimated my capabilities. To be able to prove yourself you need to have the appropriate educational qualifications, and I had not completed my engineering," says Suhas, who still holds Bill Gates as his muse.
Unfazed by failure
Another thing that motivated Suhas was failure, "I just got more aggressive with failures, but I was never afraid of taking risks. I went with the flow and never questioned my abilities," he says. He started when he was 14, along with his friend who is in the U.S. We operated out of his flat there. In fact, it was the Western companies and the media there that recognised me initially and helped me move ahead."
Luckily for Suhas, he could cross the seas sitting in his Internet café in Bangalore. "We did most of the work virtually, besides building solutions to help people minimise travel," says Suhas. About how he tried to catch up with academics, the self-professed workaholic who has survived on less than four hours of sleep says, "The time difference between America and India worked for me because I would attend classes during the day and work through the night."
Suhas, however, does not queue up outside elite institutions to pick the cream of the lot. "We do recruit from institutes such as IIMB, but for our research and development, and engineers, we do not focus only on the big names. As long as they have the skill set and practical knowledge, it is fine," he says.
For the technologically challenged, Suhas and his team build applications for Facebook, iPhones, Blackberry and Android phones. They also develop web portals and auction sites and engage in other such technologically advanced activities. "We are now focussing on the bottom of the billion, doing extensive work to improve the education and healthcare systems in Africa and India," says Suhas, who claims that if he were not CEO he would rather be a veterinarian.
"When I started out, I devoted all my time to work, but I paid the price, I lost out on friends and fun. Which is why I try my best to minimise my workload on weekends these days," says Suhas, whose last vacation was over a year ago at Bandipur.
For someone who did not know the meaning of the term 'entrepreneur' when he started out, Suhas has come a long way. He sailed through the recession without even a bruise, in fact, turning it around to his advantage. He scaled up his operations in Europe, while the rest of the world reeled under the crisis. He now serves on the board of the World Bank and has been recognised as a young global leader. Next on the agenda is marriage. "Now, that I have established myself in my career, my parents feel I am ready to get married."
http://www.thehindu.com/life-and-style/youth/article925494.ece