Imagine this: a sixteen-year-old schoolboy, with a plum job offer at hand? Hard to believe? It was for us too – till we met Arvind Thiagarajan, an unassuming standard XII lad from DAV Chennai with an impressive title – Bell Labs Scholar 2000. This Chennai lad is one of the 655 Indian students who took the exams conducted by The Lucent Technologies India. Of these only 8 students were selected and all of them were from the South.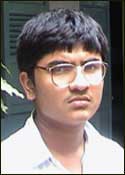 Three of these students are from Bangalore, three from Hyderabad and two, from Chennai! (The other lucky chap is Sundeep Venkataraman from PSBB). Arvind has been provisionally offered a post at the Indian offices of Lucent Technologies, where he'll don the garb of a Software Engineer. He has also been awarded a scholarship of Rs.25,000.
Arvind's biggest ambition in his life at present is to get inside the IIT. Easy to understand, especially as both his father and uncle have IIT-IIM background. He is the only child and his mother is a homemaker. What attracted Arvind to computers and software at this young age is, in his words, his love for solving problems. And surprisingly, he is no avid web surfer! Anyway, here's wishing you the very best of luck for a fantastic future, Arvind.
http://chennaionline.com/chennaicitizen/2000/achieve.asp