Here is the rags-to-riches story of an extremely talented boy from a small village in Tamil Nadu who has risen to be the chief executive officer of a company in Seattle, USA.
It is also the story of how Kalyana Raman Srinivasan, who was so indigent that he had to study under a streetlight, but then managed to score excellent marks, rose in life and became today's Kal Raman.
At every turn in his life, he took the difficult path and it turned out to be the right one and in the right direction. His rise to the top is more dramatic than a thriller. Today, he is a very successful entrepreneur and the founder-CEO of GlobalScholar.
Read his extraordinary story of triumph and determination . . .
Difficult childhood
Kal Raman was born and brought up in a small village called Mannarakoil in Tirunelveli district of Tamil Nadu. It was a comfortable normal middle class life for him and his siblings as his father was a Tahasildar there.
But the sudden death of his father at the age of 45 changed everything overnight.
Kal was 15 then. "My mother got a pension of Rs 420 a month and you can imagine how tough it is to educate four children and feed five mouths with Rs 420?"
Hi life changed dramatically after his father's death. The family moved from the rented house to a hut that had no proper water supply or electricity. Kal Raman remembers, "All of us used to study under the streetlight and, thank god, the streetlights used to work those days! MGR (M G Ramachandran) was the chief minister then. We had to sell the plates to buy rice to eat and my mother used to give us rice in our hands. That bad was our situation."
But his mother, who had studied till the 8th standard, was very particular that her children studied. "All our relatives wanted my elder brother to stop studying and take up the small job offered by the government but my mother wanted him to continue studying."
"Then they wanted me to learn typewriting and shorthand so that I could get some job after the 10th  standard. But mother said, 'My children are going to get the best education I can offer. Education is our salvation.' She was my hero for her vision and she still is my hero."
What kept the family going? "We were sad but because we accepted our fate, we were at peace with whatever that happened to us. We knew our father would not come back to lift us up from poverty. We also knew our salvation was a long way away."
He didn't know why he used to tell his mother, "One day I will give you so much money that you will not know what to do with it!" Years later, he did exactly that!
First turning point in life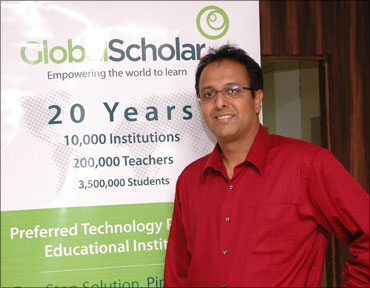 Kal Raman believes that God played a hand in all the major turning points in his life. The first turning point in life was after his 12th standard. He got good marks in both the engineering and medicine entrance exams, and for engineering, he got admission at the Anna University in Chennai while for medicine, it was in the Tirunelveli Medical College.
"While going in the bus with my mother to join the medical college, I told her, "If I join for medicine here, the high probability is that my life may begin and end in Tirunelveli. I really want to see the world.' She agreed with my decision to go to Chennai and join Anna University and study Electrical Engineering and Electronics."
So, he stepped into a new world outside Tirunelveli, and that was Chennai. Though he had got merit scholarship and a lot of good people helped him pay the initial fee, the scholarship amount never used to reach him regularly or on time.
"The mess fee was Rs 250 a month and I used to be a defaulter in the mess at least six months in a year. Till you pay the mess fee, you cannot eat in the mess. So, I used to live on day scholars' lunch boxes and also use to fast. That is when I learnt to fast ! I must say a lot of friends helped me with money and food."
Scarcity of money was so bad that he had no money to buy food just before the final semester exams. When he gave his final semester exams, he had not eaten for a day-and-a-half. "After finishing the exam, I almost fainted."
The day after the exams came all the scholarship money that was due and it was around Rs 5,000. "So, I went home a rich man and that helped us repay some loans."
First job
Like opting for Chennai and joining Anna University instead of a college in Tirunelveli, Kal Raman took another risk with his first job also. His first job was with Tata Consulting Engineers (TCE), and he had a choice of joining either Chennai or Mumbai.
Although he knew nobody in Mumbai, he chose the capital of Maharashtra.
He remembered the first day. "It was interesting. With bag and baggage, I went to the TCE office after taking a shower at the railway station as I had no money to go to any hotel. After the first introduction at the office, the manager noticed that I was wearing slippers to the office. He called me and said, "I don't care which college you are coming from but this is not acceptable. You should come in shoes tomorrow."
I said I couldn't come in shoes the next day and this the manager construed as arrogance. "How could you talk like this?" he asked me. I said, "Sir, it is not that I don't want to, but I can't afford to buy shoes. Only after I get my first pay cheque, can I buy shoes. Sir, I request you not to terminate my job because of this. I and my family need this job."
Shocked to hear the explanation, the manager asked, "Where are you staying?" and the reply was, "Dadar Railway Station."
So distressed was the manager to hear Kal speak that he immediately released a month's salary in advance and also arranged for him to be at his friend's place till he could find a place to stay.
"He bought me a pair of shoes and those were my first shoes. The next day, I sent Rs 1,500 from the advance to my mother."
From electrical engineering to programming
Kal's rise in career was meteoric in a short span of time. Within a month, he got a chance to move to Bengaluru (then Bangalore) and also to programming.
Soon, he was in Chennai with Tata Consultancy Services (TCS). Within a few months, he was sent to Edinburgh, UK.
From Edinburgh, his next stop was the United States. In 1992, he went to the US as an entry level contractor with Wal-Mart. In two years, he was a director running a division.
When he left Wal-Mart after six years, he was a man running the information systems for the International Division of the retail giant.
In 1998, he joined drugstore.com Online Pharmacy as the chief information officer and in 2001 at the age of 30, he was the CEO of the company.
He was at the right place at the right time. "God was there at every step guiding me to take the right decisions. I was also willing to take risks and tread new paths," Kal says.
http://business.rediff.com/slide-show/2010/sep/01/slide-show-1-from-studying-under-streetlamps-to-ceo-of-us-firm.htm