His story is much more than a celluloid dream script. His is the proverbial rags-to-riches tale, made possible through hard work and determination. E. Sarathbabu's story started in the slums of Madipakkam. Today, at 29, he is CEO of Foodking Catering Services, which has outlets in Chennai, Goa, Hyderabad and Rajasthan, and has a turnover of Rs. 7 crore.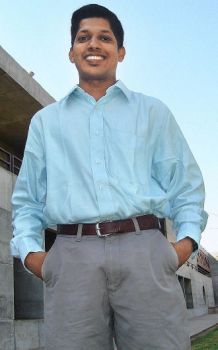 Talking about his days of abject penury when he supplemented his mother's income by selling idlis door-to-door and binding books, Sarathbabu says: "Poverty can never play spoilsport if an individual is determined to win."
It pays to focus
With two sisters and two younger brothers around, not only food was less, there was no electricity either. "But, I never felt sad as there were no distractions while studying. You cannot achieve anything if you brood over what does not exist. Even when I was asked to stand outside the classroom for not paying the fees, I used to listen to the lessons being taught inside because I understood that nobody — my mother, me or my teacher — was at fault for the situation I was in," he philosophises.
Sarathbabu's willpower coupled with his mother's desire to see her son speak English like the "upper-class" people do, took him to Kings Matriculation Higher Secondary School. While his classmates discussed the good food they ate and the new dresses they bought, Sarathbabu was driven by the desire to top the class. And, first he came, always, even scoring the highest marks in school in the Matriculation Board examination.
His score of over 1,100 in the Class XII examination made him dream big. He found himself in BITS, Pilani, and then at the country's best B-school, the IIM-Ahmedabad.
"At Pilani, I thought I had bitten off more than I could chew. My poor spoken English aggravated that feeling. But, I did not give up; I started reading books and practising spoken English in front of the mirror. Today, I think I have made it," he smiles.
"Whenever I feel dejected, I think of my mother. I always remember her drinking only water to make sure that her children ate whatever was available. As a child, I used to think she liked water a lot but only later did I realise that it was acute poverty that forced her to fill her stomach with water," he says.
Turning entrepreneur
Sarathbabu worked for two years with Polaris and repaid the loans taken for higher education. When good jobs came knocking, he shocked all by rejecting them. For, he nurtured a different dream: "I know the pangs of hunger and always wanted to provide employment opportunities." Today, he employs 250 people.
Sarathbabu launched Foodking in Ahmedabad with a paltry sum of Rs. 2,000. "It was a dream come true, when Infosys' N.R. Narayanamurthy inaugurated my venture in 2006. I introduced my mother to the chief guest and her eyes filled with tears of happiness. It is one of the most memorable moments of my life," he recalls.
His dream is a hunger-free world by creating more job opportunities. How does it feel to be a youth icon? "Positively happy.I believe God is giving me this fantastic opportunity to inspire youth so that they too can create more jobs, bridge the rural-urban divide and address social issues and make India shine globally."
"I have risen from the bottom. If I can, why can't you?" says Sarathbabu, who also plans to start a school for the downtrodden.
Having come this far, this unassuming 'crorepati' continues to live in the Madipakkam slum with his wife Priya, mother Deeparamani and his younger brothers. But, he does plan to construct a house for his mother and also convert the 'hut' — from where he began his journey — into a memorial.
http://www.hindu.com/mp/2009/03/16/stories/2009031650670100.htm