Two years back Seema Sood longed for death and had even petitioned the President of India for euthanasia. But hope triumphed over despair and today, walking with difficulty, but walking nonetheless, after a total knee replacement surgery, the Bits Pilani gold medalist is ready to take on life once again.
   The turnaround has been both spectacular and miraculous for the 37-year-old who lost all movement of her limbs for 15 harrowing years after a crippling attack of rheumatoid arthritis. The disillusionment was so intense that she wanted permission for mercy killing. But that was then.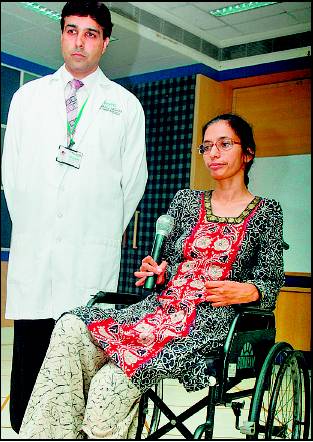 "I regret the letter to the President," she said, still frail and moving in tiny steps with the help of a walker. "Everything was so dark for me earlier, but I am excited about my mobility now and I am confident I will improve."

   Walking for the first time after 1993 on Thursday, Seema, a resident of Palampur in Himachal Pradesh, has another regret: that she spent the most productive years of her life in bed struggling with deep dejection when her twin masters degree from Pilani in engineering sciences and information technology could have taken her places.

   Amazingly, when she won the gold medal from her institute, she had already been attacked by the dreadful disease and was on heavy steroids.
   Fortunately for her both the Himachal government and her alumni association have come forward to help her out. She has been granted funds from her native state for replacement of all her joints. "This includes the knees, the hips, the shoulders and the elbows. The delayed treatment had made her case complicated and tough," said Manoj Wadhwa, orthopaedic surgeon in the private Mohali hospital that is treating her.

   The doctor said there will be a 15-day gap between the other surgeries of hips, shoulders and elbows and Seema would take another six months to recover. But back from the brink, Seema, who teaches math and chemistry to children of her village back home, is ready for the big leap ahead. "Don't give up on life. That's what I say," she says feebly, but determined as doctors usher her to the hospital room which will be her house for the next six months.
http://epaper.timesofindia.com/Daily/skins/TOI/navigator.asp?Daily=TOICH&login=default&AW=1211818982078