The Indian contingent for the Isshinryu world karate championships in Pittsburgh, US on June 18, 19 and 20 will include Srimanth Bal of Gujarat. Nothing unusual one would think. Except that Srimanth was a spastic. He was born with quadriplegia a form of cerebral palsy where brain damage renders both arms and legs dysfunctional — he had to be tube-fed for three years. Doctors told them to pray but his parents, Srinivas Bal and his wife of Vapi, Gujarat, wouldn't give up.

Surfing the net, Srinivas stumbled upon information that Chennai-based Shihan Hussaini, an 8th degree black belt in karate and social worker, was doing pioneering work with children of the Spastics Society of Tamil Nadu and that 'karate therapy' had worked wonders.

Shihan Hussaini was contacted and Srimanth, 11, arrived in Chennai in 2003. He was wheelchair-bound; he could barely stand on his own. Hussaini then summoned one of his students Hardik Joshi — a 5th degree black belt from Gujarat — and gave him the responsibility of training Srimanth. Teacher and pupil went back and began, step by step, the laborious training process.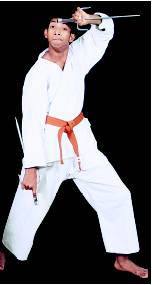 It was six months before he could stand on his own. Then he started the basic blocks, hand attacks and kicks. Soon, Srimanth began running. He mastered complex katas of Isshinryu karate, leaving even experts spellbound.

After five years, when Srimanth came here for his black belt test, Shihan Hussaini was dumbstruck. "Initially I was apprehensive. The boy looked like a vegetable. But he was a keen observer and quick learner." Srimanth ran the mandatory 24 km non-stop before doing 100 repetitions of the difficult endurance exercises. He also scored excellently in his basics, katas, weapons, sparring and self-defence. Now, he is in the Indian team for the Isshinryu world karate championships — the first such boy to do so.

 On Monday, Srimanth held a demonstration of his spectacular recovery and amazing talents at the Music Academy where Shihan Hussaini presented mementoes to the parents and the instructor.

"I just can't believe it. It is a dream come true for me. Joshi sir stood by me like a rock. If not for him, I would not be here today. Perseverance pays, I am an example of this," Srimanth told media persons. Asked whether he was confident of bringing home laurels from Pittsburgh, pat came the reply. "Yes. Why not? I am confident of returning with medals."

Said a proud Srinivas: "I just thank God and Joshi and Hussaini for their efforts in getting Srimanth on his feet and giving him a new lease of life.''
http://epaper.timesofindia.com/Daily/skins/TOI/navigator.asp?Daily=TOICH&login=default&AW=1235309351140